TV Market Data / TV Channels & Multi-Channel Platforms in Europe (2008-2009)






January 2010 |

European Audiovisual Observatory
Growth of the number of television channels and multi-channel platforms in Europe continues despite the crisis

The information in the

MAVISE database, created for the DG Communication of the European Commission by the European Audiovisual Observatory and the data collected by the Observatory in the 2009 edition of its Yearbook, shows that despite the economic crisis in 2009, the number of channels and the number of television platforms continues to grow in Europe (EU 27 + two candidate countries, Croatia and Turkey).

More than 245 European television channels were launched in the course of 2009. The most popular genres of new channels were sport channels (38 new channels in 2009), followed by channels for children (17 launches in 2009). Among these recent additions one can note new public channels on the DTT networks such as Ramasjang and DR K from Denmark, but also more than 150 new thematic channels on the cable, satellite and IPTV platforms such as Investigation Discovery, and also many local channels such as Weo in France or Dresden Eins in Germany.

At the same time approximately 220 channels ceased transmission in 2009. This figure takes into account the demise of over 100 local Spanish channels following the closing down of the Localia network of channels, controlled by the Prisa Group. Hence, around one hundred national channels closed down in 2009. Among these one can note channels as significant as the MTV channels targeting the Baltic states, the various linguistic versions of the business information channels of Bloomberg, and several of the sports channels of the Setanta Group (which no longer operates in the UK).

DTT services have been completely implemented in six European countries where switch-off of analogue terrestrial broadcasting is now complete (Germany, Denmark, Finland, Luxembourg, the Netherlands and Sweden). Switch-off has taken place in regions of Austria, Belgium (Flemish Community), the Czech Republic, France, Italy and the UK. Switch-off is due to take place in 2010 in Austria, Malta, Spain and Slovenia.

DTT was launched in 2009 in Latvia, Poland, Portugal and Slovakia and will be launched in Bulgaria, Ireland and Romania in 2010. Pay DTT TV services were launched in 2009 in Germany, Latvia and Spain.

At the end of 2009 one can estimate that there are more than 730 channels being broadcast over European DTT networks, of these more than 300 are local and regional channels. This compares with approximately 500 in April 2009.

Digital television has also developed on the other platform types, particularly pay-DTT, IPTV and mobile television. There are still over 4000 cable operators in the 29 countries but the overall number of cable operators has dropped slightly, and the sector continues to experience consolidation (for example in Germany, Finland, Hungary and the Czech Republic).

In line with the deployment of DTT throughout Europe, the number of companies distributing pay DTT services has been increasing: the number rose from 14 at the end of 2008 to 20 at the end of 2009.

Of interest is the growth of the number of IPTV operators with, similarly, an increase from 68 at the end of 2008 to 90 at the end of 2009. This shows in part the increase in competition in this sector in several countries. In thirteen countries 4-5 competing operators are present (for example 6 in Sweden, 5 in France and Denmark, 4 in the Netherlands, Bulgaria and Slovenia).

There has also been a growth in the number of satellite packagers available in Europe, an increase from 51 at the end of 2008 to 60 at the end of 2009. This also indicates high levels of competition particularly in Hungary, Poland and Romania where each country has five different satellite packagers.

The total number of operators of services for mobile networks (both TV services for mobile phones on 3G networks and mobile personal TV over DVB-H) has also increased in the last year despite the fact that DVB-H platforms have only taken off in a couple of European countries. Of interest is the fact that 114 television channels have been established specifically for mobile services and these are often versions of well established channels: examples include Quatro Movil, HBO Mobile, RTL Mobile TV and RTE News.

Multichannel platforms in Europe (29 countries) (2008-2009)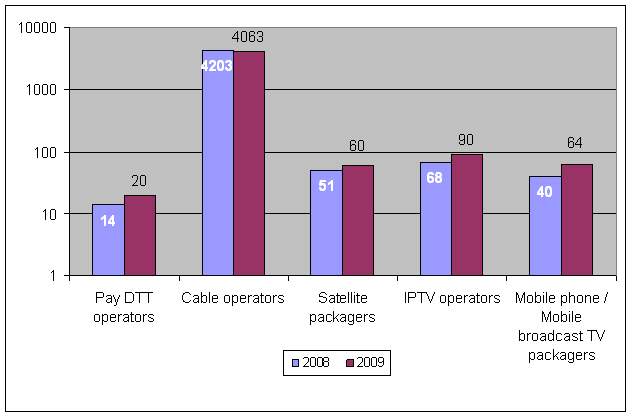 Source : European Audiovisual Observatory /

MAVISE database

At the end of 2009, there were more than 7200 television channels in Europe (EU 27 + two candidate countries, Croatia and Turkey). If one also takes into account the extra-European channels, then there are more than 8600 channels available to European audiences.
Of the 7 200 European channels more than half are regional or local channels, 43% are national channels and 6% international

European TV channels by geographical coverage (2009)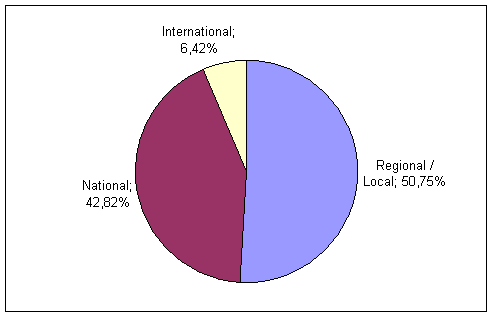 Source : European Audiovisual Observatory /

MAVISE database

One in ten European channels are public service channels. This proportion remains relatively stable whether one looks at national and international channels (9,8%) or local and regional channels (11,1 %). Interestingly and logically, there is a much higher proportion of public channels on the digital terrestrial networks where they represent more than one quarter of all channels (26,5 %).
If one considers the geographic origin of European channels (not including regional and local), it is the United Kingdom that leads with 1033 channels established there. Almost half of the channels established in the UK are broadcasting to other European countries, and this includes the many linguistic versions of channels such as Disney Cinemagic, Viasat Explorer etc. Following the UK are Italy (388), France (297), Germany (227) and then Spain (195). The concentration of the establishment of channels in certain countries is considerable since five countries account for almost two thirds of all channels, while at the same time in more than half of the European countries there are less than 40 registered channels.
However, these figures relate to the establishment of channels and not to their availability. For example ten national/international channels are established in Ireland but there are more than 500 channels available on Irish television screens.

European TV channels by country of origin in 2009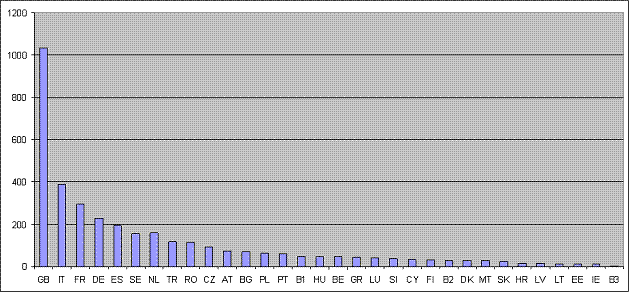 Source : European Audiovisual Observatory /

MAVISE database

Cinema (and fiction) and sport channels represent the two most predominant channel genres in Europe, (when one of course excludes local and regional channels), with 496 and 419 channels, respectively. These two channel genres that largely broadcast exclusive content are of considerable importance for distribution platforms. Following these we have the more classic entertainment channels (318), and then generalist channels (281).

European TV channels by genre in 2009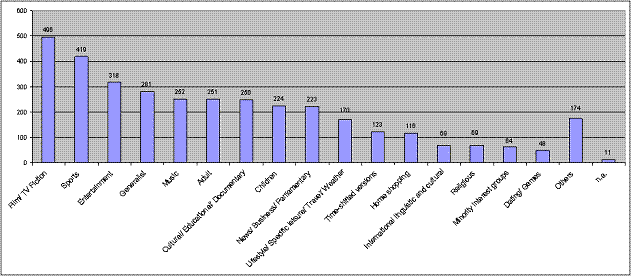 Source : European Audiovisual Observatory /

MAVISE database





Download the European Commission's & European Audiovisual Observatory's press release
Or compare to

European Commercial TV Performance (2007-2009).






© 2007-2010 by
itve.org
|
search
|
legal
|
contact
| supported by: