TV Market Data / World Television Market (2008-2013)






April 2010 |

IDATE
Global TV 2010 - Markets, Trends Facts & Figures (2008-2013)
The World Television Market in 2009 represents a total amount of 268.9 billion EUR, declining 1.2% compared to 2008.
According to iDate's report, the worldwide television market was, in 2009, primarily affected by the decline in advertising revenue of 9.2%, which could not be compensated for by paid television or public funding; these two sources of revenue increased 7.2% and 3.5% respectively. Up until 2008, advertising was by far the primary means of funding for the industry, generating about 50% of the sector's revenue, compared to 40% for paid television and 10% for public funding. In 2009, the weight of advertising and subscriptions each accounted for about 45% of the sector's revenue. By 2010, revenue from paid television should exceed overall advertising revenue worldwide, reaching a ratio of approximately 47%/44% by 2013.
"Industry did not escape the consequences of the global economic crisis; the crisis particularly affected television advertising revenue. Nevertheless, IDATE predicts that the market will exceed its 2008 level in 2010", comments Florence Le Borgne, project leader of the World Television Markets report.
Evolution of TV revenue around the globe by type of financing, 2006-2013
(in Billion EUR)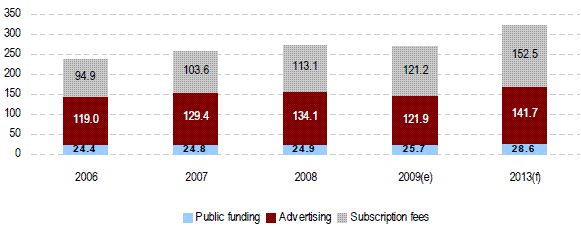 Source:

IDATE | compare to

Global TV Revenue Breakdown by Regions & Segments (2008-2009)


Pay TV as new driving force in broadcast revenues has to evolve
Despite the fact that it is weathering the economic crisis rather well, pay TV will need to evolve in the short term as a result of a host of factors, mostly related to technology, competition and consumption patterns.

High-definition (HD) TV, which is currently a short-term source of differentiation and increased ARPU for pay-TV operators, will soon be relegated to the everyday as DTT becomes the norm. Although

3D could reinvigorate innovation-based competition among pay-TV services over the longer term, a number of obstacles still need to be overcome before this technology can take off.
Faced with competition from more multichannel free-to-air offerings on DTT and the success of videosharing platforms, pay channels must work even harder to offer value-added programming and services to build subscriber loyalty and attract new customers. Theme channels have the weakest business models and therefore are the most threatened.
As video consumption becomes increasingly independent of a TV schedule, pay-TV operators are gradually implementing solutions to meet viewers' need for flexibility and personalization. These services act as additional sources of revenue for these operators.
The predicted development of

mobile TV is also expected to impact the sector, though for the time being mobile TV/video is still far from being a leading mobile service—users consider it more as a "nice-to-have" than a "must-have." Regular, sustainable patterns for mobile viewing remain to be established; they are currently limited to occasional use by a small percentage of savvier consumers.


Television 2020 – The Web Migration
All the conditions for the

TV industry's migration to the Internet are now in place:
consumers are comfortable with online visual consumption;
technical solutions that give users access to Internet content on their television sets have been implemented;
open Internet access is possible from mobile telephones;
premium content is available on the Web;
online video quality of service is improving;
new players from industries related to the television industry have aligned their strategies.
While this migration will be gradual, it will have a deep-seated impact on the industry:
the exclusive rights model will no longer be the standard;
some consumers will abandon traditional managed networks;
a globalization trend will be sparked, to the benefit of the major rights holders.
Unlike the music and print media industries, the TV industry is gaining a strong position on the Web. As a result, television is poised to play a central role in

video services. This offensive strategy will likely pay off down the line, but does not entirely eliminate the possibility of destroying value. There are structural reasons for this, including a fiercely competitive online advertising market and a lack of control over program circulation.

Far from being simply transitory, the 2009-2010 economic downturn marks the beginning of a decade of restructuring for the TV industry. This new period will begin with an overall decline in the sector's resources before increasingly varied consumption patterns spur a new period of growth. The decade running from 2010 to 2020 will also be a period that focuses on cost control, with the industrialization of TV production that will depart once and for all from its historical model, i.e., film.

The total TV/video market in the EU big five, 2008-2020
(in Billion EUR)



Source:

IDATE


This migration to the Web poses a threat to the

European TV industry in particular. A reassessment of the television industry's regulatory strategy appears both necessary and urgent, and will involve the creation of integrated pan-European conglomerates.


Download the full report:

Global TV 2010 - Markets, Trends Facts & Figures
Or visit

IDATE for further information.







© 2007-2010 by
itve.org
|
search
|
legal
|
contact
| supported by: