TV Market Data / European Commercial TV Performance (2007-2009)






April 2010 |

OBS
European TV Groups Revenues & Results (2007-2009)

The

European Audiovisual Observatory has analysed the first consolidated results published by the twelve main European television groups for 2009. These groups operate 534 television channels.

The consolidated figures of these twelve television groups are made up not only of broadcasting revenues as such but also income from other activities. Seven companies (British Sky Broadcasting, Groupe CANAL +, Mediaset, Prisa/Sogecable, Modern Times Group, Sky Deutschland and TVN) are both providers of channels and operators of distribution platforms. All these groups are involved in providing generalist and special-interest channels. Most are also involved in programme production. Seven of them (BSkyB, RTL Group, Groupe CANAL +, Mediaset, ProSiebenSat.1 Media AG, TF1 und Modern Times Group) also provide pay-VoD services. The RTL Group, CANAL + and TF1 are also involved in publishing/distributing video. BSkyB has also successfully penetrated the broadband access market.

Consolidated turnover of main European commercial TV groups (2007-2009)
(in million EUR, current rate)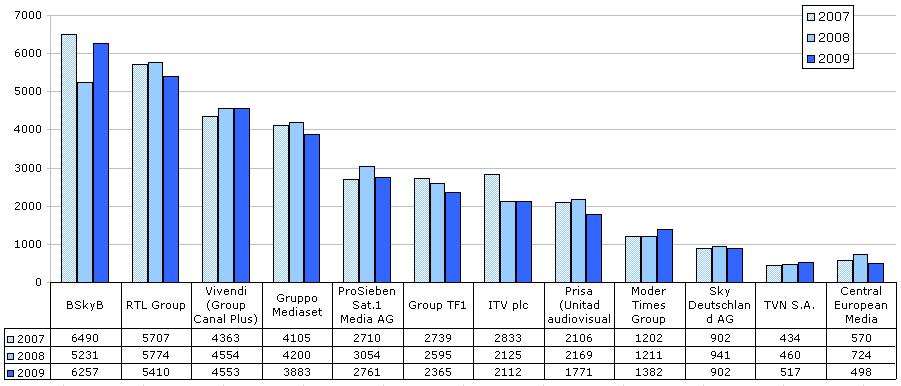 Source:

OBS


The diversification of activities is certainly one of the important factors for weathering the crisis. This diversification has enabled BSkyB to increase its turnover by 10.5% (calculated in pounds sterling), whereas those groups completely or mostly dependent on the advertising market have generally recorded significant declines, which reached as much as -30% in the case of Central European Media Enterprises, the American group that is registered in Bermuda and operates 21 television channels in Central and Eastern Europe. This explains why groups that have historically had a strong presence in the advertising market, such as Mediaset and ProSiebenSat.1 Media are trying to strengthen their position in the pay-TV market.
Net results of main European commercial TV groups (2007-2009)
(in million EUR, current rate)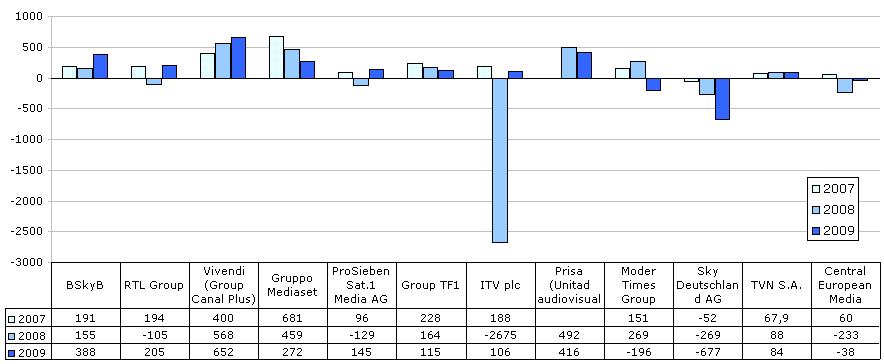 Source:

OBS


In 2008, all twelve groups recorded a total net loss of 1.2 billion euros. Only five groups actually posted net losses, but ITV plc amortised its goodwill, thus creating a net loss of 2.6 billion euros. In 2009, only three of the twelve groups recorded a net loss (Sky Deutschland, Modern Times Group and Central European Media Enterprises). The net profit of all the groups taken together was 1.5 billion euros, which was significantly below the figure for 2007 (2.7 billion). The groups have generally reduced their operating costs to mitigate the drop in revenues.
Number of channels under direct/indirect/partial control of main European commercial TV groups (2010)
(April 2010)



Source:

OBS


Compare to

TV Channels & Multi-Channel Platforms in Europe (2008-2009).
For more information please visit the

European Audiovisual Observatory.




© 2007-2010 by
itve.org
|
search
|
legal
|
contact
| supported by: