TV Market Data / PVR Penetration (2006-2009)






July 2010 |

IDATE
Time-Shifted Content & PVR Penetration in the US, UK and France (2006-2009)

Among the recent consumption trends, time-shifted content is clearly the most important phenomenon. Solutions to view TV programs at a different moment than their normal broadcasting time are now numerous throughout the range of digital recording devices and catch-up TV or VoD services – both available on the Internet or directly on TV.

As a natural extension of the old VCRs, Digital Video Recorders (DVRs) have come to occupy a central place within the typical household. The penetration rate of DVRs is steadily progressing, largely driven by the policies of pay-TV players, including cable and satellite TV operators, which increasingly include this feature within their set-top boxes. This strategy is motivated by the fact that subscribers equipped with a DVR generate a higher ARPU and lower churn than other subscribers. In addition, most DVD players now offer digital recording, while consumers can also buy a dedicated terminal such as the TiVo products in the US.

Among the mature TV markets, the United Kingdom has the highest DVR penetration rate, with more than 35% of households equipped by September 2009. At the same period, the US crossed the threshold of 30% of TV households equipped, against 21% in France.

Penetration rate of PVR within TV households in the US, France and the UK
(in Billion EUR)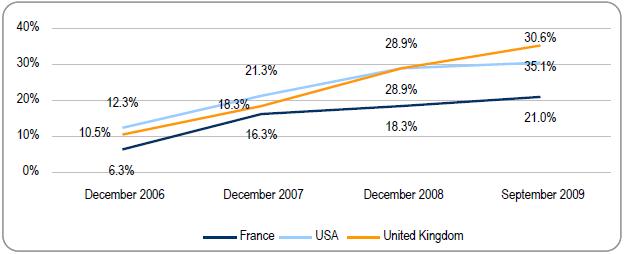 Source:

IDATE Report "TV Channels' quadruple screen strategies"


In parallel to this trend, over the last few months on-demand audiovisual media services have multiplied on all the main TV markets. The Internet is the main driver of this growth: in late 2008, it gathered 56.6% of on-demand services available in Europe (source: OEA/DDM On-demand video and catch-up TV in Europe, September 2009). In the TV market, IPTV players are the most dynamic in terms of release of new on-demand services, representing 30% of all services available in Europe by late 2008. So far, cable and satellite operators are much less active, while DTT services are currently only present in Britain.
Within the last two years, more than 500 new services of on-demand audiovisual media have emerged on the different European networks; Internet has been the most dynamic medium, with a service offer climbing from 94 services in late 2006 to 394 services in late 2008, more than a fourfold increase in two years.
Although recorded broadcast is still very far from competing with live TV, it is still growing rapidly in both number of users (+22.3% between Q4 2008 and Q4 2009 in the US) and monthly consumption per individual (+28.3% over the same period). In late 2009, the US market thus had 90.8 million consumers of recorded broadcast, each watching an average of nearly 9.15 hours of recorded programs each month (553 minutes) (source: Nielsen - Three Screen Report Q4 2009).
In France, while the playing time of live TV was 3.25 hours per person per day in 2009 (source: Médiamétrie - Médiamat - Individuals aged 4 and over), consumption of time-shifted programs barely reached 7 minutes (daily consumption among individuals aged 15 and over, source: Médiamétrie - Global TV Wave 3 - April-May 2009), including 3 minutes of recorded programs (VCR, DVD recorder or PVR), 3 minutes of catch-up TV and 1 minute of stored or burned programs.
Still in France, viewers of catch-up TV topped 10 million over the April-May 2009 period, against four million between October and November 2007, a 160% increase in a year and a half. After the legacy terrestrial channels, DTT channels and thematic TV channels have launched catch-up TV services while the average recovery of older services continues to make progress.


Get the full report:

TV Channels' quadruple screen strategies
Or visit

IDATE for further information.







© 2007-2010 by
itve.org
|
search
|
legal
|
contact
| supported by: