TV Market Data / Theatrical Market Statistics (2005-2009)






April 2010 |

MPAA
Global Theatrical Market Statistics & International Box Office

The Motion Picture Association of America, Inc. (MPAA) released its annual Theatrical Market Statistics Report for 2009. The report shows that global box office receipts reached an all time high of $29.9 billion, an increase of 7.6% over 2008 and almost 30% from 2005. The U.S./Canada market reached $10.6 billion, an increase of more than 10%, and International receipts increased 6.3% to $19.3 billion in 2009. Globally, the U.S. and Canada made up 35% followed by EMEA (33%), Asia Pacific (26%) and Latin America (6%).

International Box Office by Region (in US$ Billions)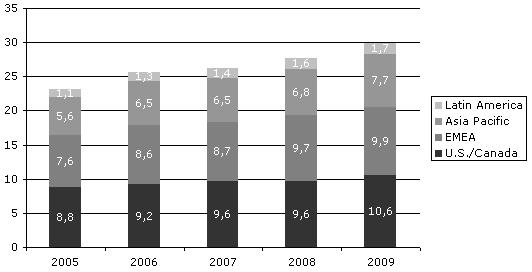 Source:

MPAA


The

3D market gave the U.S./Canada box office a boost accounting for 11% of the total compared to just 2% in 2008. With 20 films released in 3D compared to just eight in 2008, higher value entertainment contributed significantly to box office revenues.
"While the motion picture industry continues to face tremendous challenges elsewhere in our business, we're reminded again this year that the cinema is the heart and soul of our industry and it is thriving," said Bob Pisano, President and Interim CEO of the MPAA.
Ticket sales in the U.S. and Canada rose more than 5.5% from 2008, the first admissions increase in two years. Per capita ticket purchases in the U.S. and Canada also increased 4.6% to 4.3 tickets per person, the first significant increase since 2002. Sales were fueled by repeated visits to the cinema by frequent moviegoers – those who go to the movies once a month or more and who make up only 10% of the population – who bought half of all tickets sold in 2009.
"Four straight years of box office growth– the last three each setting a new record – show the enormous appetite audiences continue to have for great and entertaining movies in the best way to enjoy them – on a big screen with a big crowd," said John Fithian, President and CEO of the National Association of Theatre Owners.
At the end of 2009 there were more than 16,000 digital cinema screens worldwide, up 86% from the end of 2008, a net gain of more than 7,000 screens. The fastest growing sector of digital screens is 3D. The number of digital 3D screens worldwide more than tripled in 2009, reaching 8,989, or about 6% of screens in the world.
"Digital technology is the foundation on which 3D has been built. Together, digital presentation and 3D hold the promise of a dramatic game change in moviemaking and movie-going. The global film audience is voting with its feet, and those feet are planted firmly in the direction of local cinemas that have the latest technology," said Pisano.
While box office revenues and admissions surged, films produced by U.S. production companies declined over the past three years. In 2009, the number of U.S. produced films released in domestic theaters decreased 12%, the first decline since 2003. The decline is attributable in significant part to labor issues affecting the industry in 2007-08, the recession and the challenges to investment recovery due to rampant content theft, and the decline in DVD sales.



Download the report:

MPAA's Theatrical Market Statistics 2009





Related Resources:
____________________________________________________________



World TV Programme Viewing Trends (2009)

____________________________________________________________



TOP 10 TV Gameshows in the World (2009)

____________________________________________________________



Global TV Gameshow Ranking (2009)

____________________________________________________________



World Film Market Trends (2004-2008)

____________________________________________________________



European Children's Film (2000-2008)

____________________________________________________________



Comparison of public and private tv programming in Europe

____________________________________________________________



Middle Eastern Arabic TV Series Production Trends (2007)

____________________________________________________________



More TV related market data, reports and forecasts

____________________________________________________________




© 2007-2010 by itve.org | search | legal | contact | supported by: