TV Market Data / Online Video Usage France (2008-2009)
_________________________________________________________


December 2009 |

Comscore
Online Video Usage France (Sept 09 vs. Sept 08)
French Online Video Consumption Surges 141 Percent in the Past Year to 5.4 Billion Videos Viewed In September 2009


"The online video market in France has rapidly expanded during the past year as Internet users demonstrate their preference for the sight, sound and motion of video for consuming online content," said Delphine Gatignol, comScore business development manager in France. "While the Internet is still widely used for functional reasons, increasingly it has become an entertainment channel and the continued emergence of online video is a significant driver behind this trend."

Visitation and Engagement of Online Video up Significantly in France

France experienced widespread growth in online video consumption during the past year, as audience size and video engagement both increased significantly. The number of online video viewers increased 36 percent to 34.6 million, while the number of videos viewed grew 141 percent to 5.4 billion. The average time spent viewing videos online during the course of the month nearly doubled to 11.7 hours per viewer in September.





Source:

Comscore
YouTube Drives Online Video Viewing at Google Sites
Driven by the popularity of YouTube.com (which accounted for 99 percent of all videos viewed on the property), Google Sites ranked as the top video content property in September with 22.9 million viewers and 1.8 billion total videos viewed, representing a 33.5-percent share of the French online video market. French video site Dailymotion.com ranked second with 394 million videos viewed, followed by Groupe TF1 (162 million videos), Megavideo.com (160 million videos), and Facebook.com (145 million videos).

Source:

Comscore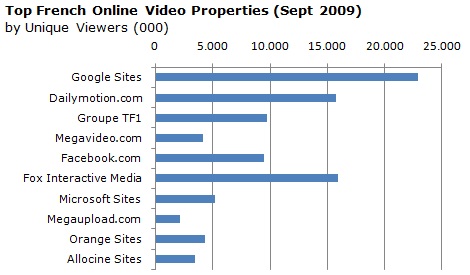 Source:

Comscore

Source:

Comscore



Other notable findings from September 2009 include:

Viewers spent the longest time per video on Megaupload.com where they averaged 29.3 minutes per video. The heaviest viewers of online video are males between the ages of 15-24 who watched approximately 21 hours of online video per person in September. 22.9 million viewers watched 1.8 billion videos on YouTube.com (79 videos per viewer). Females age 55 and older watched an average of 67 videos on YouTube.com in France, compared with males age 55 and older who watched 47 videos on the property during the month





Comscore Press Release (December 1, 2009)










Related Resources:
____________________________________________________________



U.S. Online Video Usage (2010)

____________________________________________________________



U.S. Online Video Usage (2009)

____________________________________________________________



Online Video Usage in Germany (2009)

____________________________________________________________



3 Screen Report: TV, Online & Mobile Video Usage in the U.S. (2009)

____________________________________________________________



Online Video Usage in China, Japan & Korea (2008)

____________________________________________________________



Mobile Video Use in USA, Europe, China, India, Russia (2008)

____________________________________________________________



"3 screen" US video usage - TV, internet, mobile (2007-2008)

____________________________________________________________



compare to global tv viewing time (2000-2007)

____________________________________________________________



More Online TV resources
____________________________________________________________



TV market data, reports and forecasts

____________________________________________________________


_________________________________________________________
© 2007-2010 by itve.org | search | legal | contact | supported by: